Hi everyone.
Love is in the air all over the blogosphere, have you noticed?
Well, I did. My fellow bloggers didn´t let me forget. Thanks all for your comments!
I was tagged by my fellow bloggers
Mariuca
,
Monica
and Metz, from
Empty Streets
to participate in this Valentine´s Meme created by
Jean
. Triple tag, lol!
Thanks so much for your Valentine´s Love, you´re the best!
I´d like to tag
Mira
,
Allena
and
Mahr
to join us.
***start copy***
Rules:
1) Once you're tagged, install the corner banner at your blog as a third party html code. (The corner banner need to stay at your blog for at least 2 weeks).
2) Post about this meme, Valentine's Love.
3) Add your blog/s with link/s to the Valentine's Lovers list and leave a comment at this post HERE.
3) Tag all your special friends.
4) Please remember to update your list regularly so that you would not miss out anyone in your Valentine's Lovers list.
Corner Banner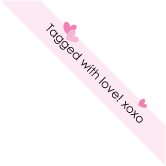 Valentine's Love
p/s: The wordings on this banner with automatically changed to 'Tagged with Love! xoxo' on Feb 15.
Please get the code for the corner banner from Jean's blog.
Valentine's Lovers:
***end copy***
Happy Valentine´s to all!
xxx